HSMAI Region Europe Roadshow 2017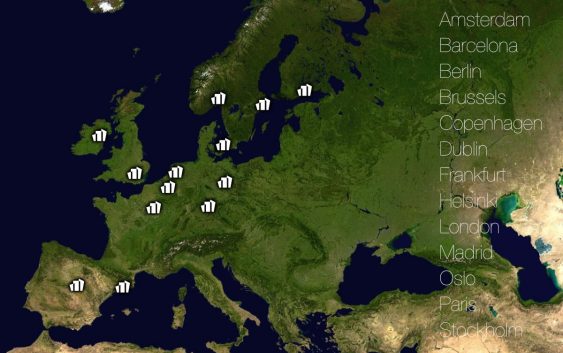 HSMAI Region Europe Roadshow
HSMAI Region Europe would like to invite you to join us for an evening of trends, innovation and networking. The Roadshow is an afternoon event followed by networking and drinks. Its FREE to attend for both HSMAI members and non members if you are working in the hotel and travel industry. Sign up today!
The event will be educational, and a local speaker with an interesting topic will be invited in each city. HSMAI Europe, in partnership with Nor1, OTA Insight, Hotelchamp, Lodgiq, Travel Tripper and other partners will visit many of the European cities focusing on Digital Marketing, Distribution and Revenue Management. Our partners will various from city to city.
We will start the Roadshow in Paris Wednesday May 10th (venue TBA) and Peter O'Connor, Dean of Academic Programs at ESSEC Business School, will be the local speaker. The topic for his presentation is: Direct Website Bookings: The challenge of conversion. 
For many years Peter has been a valued speaker in many of HSMAI's events in Europe and we are glad he will join us in Paris as well.
Preliminary programme for the Roadshow:
16:00: Welcome by HSMAI Region Europe
16:20: Plenary session with local speaker
17:20: Different roundtables held by our partners. It will be a repetition of the roundtable session, 20 minutes x 3 times. (Partners will various from city to city)
18:20: Local speaker and all the partners on stage together for Q & A
18:30: Wine, snacks and networking
We will visit the following cities:
CITY
WEEKDAY
DATE

---

Paris
Wednesday
10 May

---

Frankfurt – Pre-IMEX
Monday
15 May

---

Barcelona
Wednesday
31 May

---

Madrid
Thursday
1 June

---

Helsinki
Tuesday
6 June

---

Copenhagen
Wednesday
7 June

---

Stockholm
Thursday
8 June

---

London
Tuesday
13 June

---

Dublin (breakfast meeting)
Wednesday
14 June

---

Oslo
Tuesday
20 June

---

Amsterdam
Autumn

---

Brussels
Autumn

---

Berlin
Autumn
---
It is FREE to attend for people working in the hotel and travel industry.
If you are interested to participant but you are not working in the travel industry please contact Benedicte Gilroy Bøgh bgb@hsmai.no and she will contact you directly.
Our Partners: