HSMAI har kåret Europas reiselivstopper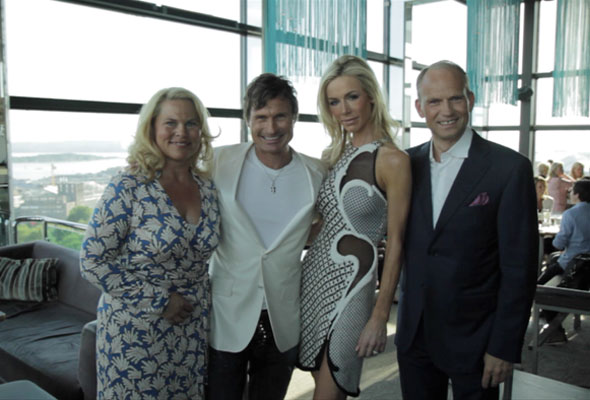 Under en tilstelning på Radisson Blu Scandinavia Hotel i Oslo, ble den prestisjetunge HSMAI European Awards 2011 tildelt seks europeiske reiselivsvirksomheter og -ledere torsdag kveld, kort etter HSMAIs strategiske markedsføringskonferanse, som ble avholdt samme sted tidligere på dagen.
HSMAI European Awards er en anerkjennelse av fremtredende eksperter og ledere innen reiselivsbransjen, som bidrar med en innovativ og nytenkende tilnærming til den ekspansive næringen.
Vinnerne innen sju kategorier er:
Social responsibility
Amserdam RAI
Basert på juryens konklusjon:
From engagement on the floor level to business decisions being made, the winner of the category Social Responsibility shows true commitment to a more sustainable operation, creating a safe, healthy and eco-friendly environment for all visitors and stakeholders. Their efforts have resulted in no less than three environmental certificates. We congratulate Amsterdam RAI.
Social Media:
KLM Royal Dutch Airlines
Basert på juryens konklusjon:
Described as an organization that "gets" Social Media, the winner has shown a genuine creativity in the way the use Social Media to not only interact with their customers, but also engaging their customers in interaction with each other. They "made history by being the first airline to reschedule a flight following a request from a user on Twitter as well as entering the Guinness Book of Records for having the highest altitude dance party". We congratulate KLM Royal Dutch Airlines.
Concept Hotel of the Year:
Scandic Hotels
Basert på juryens konklusjon:
The winner has shown a capability to think out of the box about future trends, breaking old habits and instituting new culture with their concept hotels. Through a fresh design and creative market communication they create curiousness and an emotional attachment to their products. Giving us a glimpse of the future of hotels, this chain is setting a standard to be reckoned with. We congratulate Scandic Hotels.
Educator of the Year:
d2o, Kjell Raymond Gangdal
Basert på juryens konklusjon:
With a genuine love of learning and a strong passion to share his knowledge and insights, this person has taught and trained students and executives in all corners of the world. He has an extraordinary ability to create a learning environment where managers and students feel safe, respected, and at the same time challenged. We congratulate Kjell Raymond Gangdal, Director of Education and Training at d2o, as Educator of the Year.
High Achieving Performance Enhancer of the Year:
Sabre Hospitality Solutions, Monique Jaspers-Wijn
Basert på juryens konklusjon:
A visionary in European hospitality, this person has earned a reputation in the industry as a strategically minded leader who is able to produce solid results and exceed expectations, not only in her own organization, but for their clients also. We congratulate Monique Jaspers-Wijn, VP Business Development EMEA at Sabre Hospitality Solutions as winner of the award High Achieving Performance Enhancer of the Year.
CEO of the Year:
Nordic Choice Hotels, Torgeir Silseth
Basert på juryens konklusjon:
The winner of this award is a passionate senior executive who has been an integral part of the development and success of the chain he represents. Through a close cooperation over the last 20 years with the owner and chairman of the company, he has been an essential asset as the hotel empire has grown to become the fastest expanding chain in the Nordic region. His ability to engage others in achieving a common goal has been one of his hallmarks. The chain has seen some of its largest growth since he was appointed CEO in 2006. We congratulate Torgeir Silseth, CEO Nordic Choice Hotels.
I tillegg ble Luca Guerrieri, som ble kåret til Destination Developer of the Year 2010, tildelt sin pris under torsdagens tilstelning.
– Vi er svært tilfreds med at vi kan bidra til å sette fokus på vinnere innen reiselivsbransjen, og gratulerer dem med det innovative og storartede arbeidet de gjør, sier Ingunn Hofseth, president og administrerende direktør i HSMAI Europe.
Nyttig konferanse
Den forutgående konferansen, som fant sted på dagtid, bød på foredrag fra en rekke ledende aktører:
Geoff Parker, Client Services Director, Click Consult
Paolo Torchio, VP e-Marketing & Revenue Consulting, Sabre Hospitality Solutions
André Wiringa, Managing Partner/CXO Performance Solutions
Dan Hill, President Sensory Logic
RJ Friedlander, CEO & Founder, ReviewPro
Christian Kamhaug, Head of Social Media, SAS
Jørgen Brunborg-Næss, Academic Director, Synlighet AS
Karen Plumb, Commercial Director EMEA, TripAdvisor for Business
Asif Khan, Founder & President, The Location Based Marketing Association
Nicholas Schlappkohl, Director E-Commerce, Rezidor Hotel Group
Kevin May, Editor & Co-Founder, Tnooz
I tillegg stod en paneldebatt og en rekke workshops på dagsordenen. Se det komplette programmet på denne siden.
Klikk her for høyoppløselig foto.
Foto: Linda Bernander Silseth, administrerende direktør, Flytoget (gift med Torgeir Silseth), Petter Stordalen, eier av Nordic Choice Hotels, med kona Gunhild, og Torgeir Silseth, administrerende direktør, Nordic Choice Hotels – kåret til CEO of the Year 2011 av HSMAI Europe. Fotograf: Catharina Wandrup