HSMAI Region Europe ønsker TripAdvisor velkommen som medlem av tre nye Advisory Boards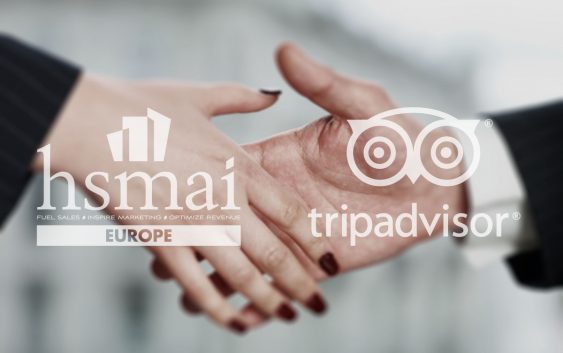 Fredag 1. september kunngjorde HSMAI Region Europe at TripAdvisor har sluttet seg til tre nye, paneuropeiske Advisory Boards (rådgivende fora): Service Operation, som konsentrerer seg om HSMAI Region Europes nyutviklede «Winning for Customers – The Service Pledge», som er bygget på det kjente, norske HSMAI-konseptet Serviceløftet. Dernest Customer Loyalty & Relationship Advisory Board, og Destination Marketing Advisory Board. TripAdvisor, som er verdens største reiselivs-nettsted, er allerede medlem av HSMAI Region Europes Digital Advisory Board.
TripAdvisor kommer også til å delta under HSMAI Region Europes Leadership Day i Frankfurt tidlig i september, samt at avtalen for inneværende år også innebærer at mange TripAdvisor-ansatte blir medlemmer i HSMAI, som såkalte corporate members.
– Vi er svært fornøyde med å fortsette samarbeidet vårt med TripAdvisor, og over å ha dem som aktive medlemmer i våre Advisory Boards, forteller HSMAI Region Europes President & CEO Ingunn Hofseth i en kommentar, og fortsetter:
– I dag handler alt om kunde- og brukeropplevelsen. Alt blir mer og mer transparent, og booking og søkemotorer stadig mer profesjonalisert. TripAdvisor er den perfekte samarbeidspartneren for oss, siden HSMAI Region Europe, sammen med våre rådgivere har utviklet en metode og prosess for å bygge servicekvalitet for såkalt change management og relation management. I sommer arrangerte vi de første workshops i London og Oslo, som forberedelse for noen kandidater som nå er blitt sertifisert som Executive Coaches for vårt nye program, Winning for Customers – The Service Pledge.
Tripadvisors Global Director of Industry Relations, Helena Egan, slutter seg til dette, med denne tilføyelsen:
– Vi er meget tilfreds over å utvide samarbeidet vårt med HSMAI Region Europe, for å samarbeide med bransjen og fremme bevisstheten rundt fordelene ved å samarbeide med TripAdvisor.
Om HSMAI (uoversatt)
HSMAI – Hospitality Sales and Marketing Association International – is a global organization founded in the US in 1927. The Hospitality Sales and Marketing Association International (HSMAI) Region Europe is the European arm of the organisation. The Hospitality Sales and Marketing Association International (HSMAI) Region Europe is committed to growing business for the hotel, event and travel industry and their partners, and is the industry's leading advocate for intelligent, sustainable revenue growth on a local, national and European level. The association provides practical tools, insights, and cutting edge expertise to enable knowledge sharing and enhance professional development as well as fuel sales, inspire marketing, transform businesses digitally and optimise revenue. www.hsmai.eu
About TripAdvisor (uoversatt)
TripAdvisor, the world's largest travel site*, enables travellers to unleash the full potential of every trip. With more than 535 million reviews and opinions covering the world's largest selection of travel listings worldwide — over 7 million accommodations, airlines, attractions, and restaurants — TripAdvisor provides travellers with the wisdom of the crowds to help them decide where to stay, how to fly, what to do and where to eat. TripAdvisor also compares prices from more than 200 hotel booking sites so travellers can find the lowest price on the hotel that's right for them. TripAdvisor-branded sites are available in 49 markets, and are home to the world's largest travel community of 415 million average unique monthly visitors,** all looking to get the most out of every trip. TripAdvisor: Know better. Book better. Go better.
TripAdvisor, Inc. (NASDAQ:TRIP), through its subsidiaries, manages and operates websites under 20 other travel media brands:
www.airfarewatchdog.com, www.bookingbuddy.com, www.citymaps.com, www.cruisecritic.com, www.familyvacationcritic.com, www.flipkey.com, www.thefork.com (including www.lafourchette.com, www.eltenedor.com, www.iens.nl and www.dimmi.com.au), www.gateguru.com, www.holidaylettings.co.uk, www.holidaywatchdog.com, www.housetrip.com, www.jetsetter.com, www.niumba.com, www.onetime.com, www.oyster.com, www.seatguru.com, www.smartertravel.com, www.tingo.com, www.vacationhomerentals.com and www.viator.com.
*Source: comScore Media Metrix for TripAdvisor Sites, worldwide, May 2017
**Source: TripAdvisor log files, Q1 2017
Foto: HSMAI og TripAdvisor. Montasje: HSMAI-redaksjonen.