Ukens navn: Eric O'Halleran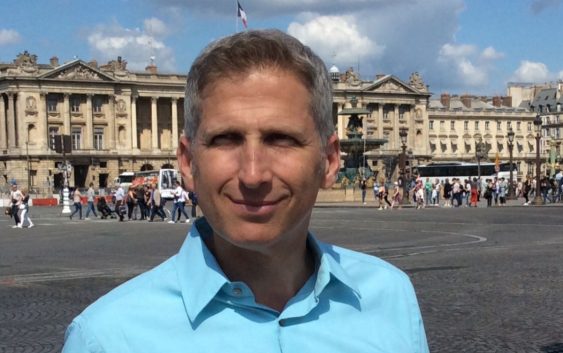 Eric O'Halleran
Freelance Training Professional
Executive coach, HSMAI Region Europe
Eric lives in London. He is an experienced and successful trainer bringing in many years of experience in dealing with customers and motivating people to help organizations grow and shift their culture. He worked in British Airways for many years, with training delivery, design & analysis for all areas of the organization. He has worked as a freelance trainer for several years, focusing on topics like Team Working, Managing Challenging Situations, Coaching, Persuasion, Giving Feedback, Handling Objections, Growth Mindset, Growing Motivation, Business Communications and more.
Now certified as one of HSMAI Region Europe's Executive coaches.
Q: What does a day at work consist of for you?
A: It's a cliche, but no two days are the same. I do training, coaching and consultancy work, so the nature of my job is varied. Yesterday I ran a workshop in Yorkshire and today I did some work at home in the morning, before heading to Essex for a one-hour presentation I will be making on mindset this evening.
Q: What's the best part of your job?
A: See the above answer. I love to get a glimpse of other peoples' businesses and help them see their opportunities. I love having a job that keeps me on my feet (literally) and where I go to bed feeling that I made things better.
Q: Do you have anyone you've looked up to?
A: There have been many people who have helped me be my best self. I've looked up to managers and colleagues, friends and familiar faces from the news who give me ideas on how to answer the challenges I face.
Q: Do you have any nice traditions at your office?
A: My office is my home and I have recently moved. Traditions have had to be replaced by discipline, so I don't get distracted when I should be working and everything around me is new.
Q: How long have you been a member of HSMAI?
A: I joined the HSMAI team last summer to qualify as a Service Pledge Coach. I have been associated with the travel industry for my entire adult career and the relationship with HSMAI and the Service Pledge allows me to focus specifically on the hospitality sector and how the Pledge can add value.
Q: What do you think is the best thing about HSMAI?
A: The service industry can be very reactive. HSMAI encourages us to step back and see the bigger picture, evaluate our position and make better decisions. It is a forum for collaboration and new ideas.
Q: Are there any activities or projects you think HSMAI should start up?
A: I think that the Service Pledge is the most exciting and potentially beneficial project I have been associated with for years.
Q: Describe your perfect weekend.
A: I do most of my work in the hospitality industry, so my best weekends often start on a Tuesday. I particularly like it when I travel somewhere for a job and then have some extra time off afterwards to try the local food, see the art and architecture and really get to appreciate the place. It enriches my life and makes me better at my job because I can better see things from my customers' perspective.
Q: If you were trapped on a desert island, what would you take with you, if you could choose one thing?
A: First I must say, my partner Larry, as this island sounds lonely. If it needs to be a thing, and I assume the WiFi wouldn't be very good, it would be my music collection. Nothing is guaranteed to lift my spirits as much as a good song.
Q: What is the title of the book about your life?
A: I don't know the title, but I hope it finishes with «happily ever after».
Q: What is your next travel-destination?
A: I love to travel, but Venice is particularly close to my heart and my friends there are overdue a visit.
Q: Do you have any special hobbies?
A: I love to get out my paint brushes or sketch pad when I have some time. I have yet to produce a masterpiece, but I find that making art forces me to slow down and observe my environment and see what often gets overlooked.
Q: Thank you for your time. Do you have any personal comments?
A: Thank you for getting me involved with this profile. You got me to answer the kind of questions I often ask others, but haven't considered for myself in a long time.