HSMAI Region Europe DOC – Digital & Distribution Optimization Conference 29th March 2017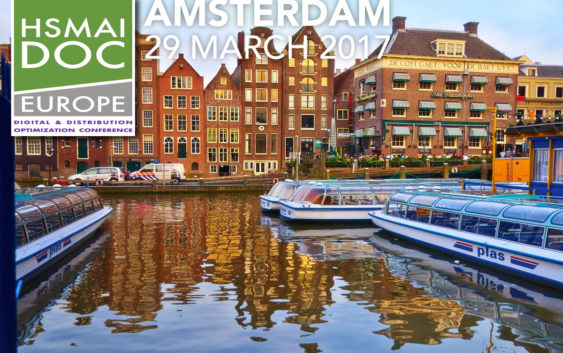 The first HSMAI Region Europe Digital & Distribution Optimization Conference DOC will take place in Amsterdam Wednesday 29th March 2017 at the same time as the 7th Annual HSMAI Region Europe Revenue Optimization Conference ROC. DOC will become one of HSMAI Region Europe's annual key events and it is meant to replace the annual Digital Marketing Conference as well as the Distribution & Marketing Strategy Conference.
The DOC and ROC conferences as well as the Annual HSMAI Region Europe Awards on 29th March and several by-invitation-only Think Tanks on 30th March are co-located with HITEC Amsterdam. Read more about the collaboration in the press release here.
Digital Marketing and Distribution are closely intertwined and the feedback from many of our members and advisors has encouraged us to create more occasions to combine these two topics. Co-locating DOC and ROC will allow us to hold two of our key events simultaneously and for the attendees from both events to attend some key sessions together. Additionally, on Thursday 30th March 2017 at the same location we will have many smaller by-invitation-only Think Tanks for about 15 people each for people directly in the industry and our sponsors. The topics we will have for the Think Tanks are: Digital Marketing, Revenue Management, Distribution, Customer Loyalty and Relationship Management, Sales, Service Operation, and Event Marketing. After gathering of each individual Think Tank in the morning, the groups will all come together over 2 hour working lunch in order to discuss and share the key takeaways with each other.
We will announce the agenda for the DOC as well as open the registration soon. Stay tuned!
For our 7th Annual ROC (Revenue Optimization Conference) you can sign up already here
See you in Amsterdam end of March!
Fotomontasje: DOC i Amsterdam, mars 2017. Fotograf: Moyan Brenn/Flickr. Montasje: HSMAI.